At Westlake, we recognize the importance of taking an active role in supporting our local communities. Our locations around the world have stepped up to help provide COVID-19 relief through donating much-needed medical supplies to workers on the frontlines.
Calvert City, Kentucky
In Kentucky, our Calvert City location responded to a call to action made by the Kentucky Chamber of Commerce and the Kentucky Governor's Labor Cabinet by donating respiratory masks to area hospitals. With the help of Petter Supply Company, they were able to obtain and donate approximately 400 N95 masks. Kentucky's U.S. Senator Rand Paul sent a letter of gratitude to Plant Manager David Huyck for its donation. "Thank you so much for the work that your team at Westlake did to donate disposable respirators to area health care facilities this week," the senator wrote. "Positive stories like these provide a great snapshot of the robust community spirit of Kentucky – and of our nation – that will help us all get through the COVID-19 pandemic," Senator Paul stated.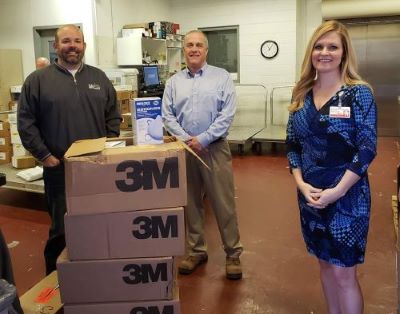 Natrium, West Virginia
Our Natrium plant in West Virginia donated COVID-19 response packages to assist three local healthcare organizations in New Martinsville, West Virginia. Wetzel County Hospital, Marshall County OES (Fire, EMS, and Law Enforcement) and EZ Care Clinic received packages each containing N95 masks, Monogoggles and disposable gloves.
Plaquemine, Louisiana
Our Plaquemine, Louisiana site donated N95 masks, along with Tyvek suits, paper and shop towels, gloves, safety goggles and disinfectants to the Ochsner healthcare system, which is Louisiana's largest non-profit, academic healthcare system.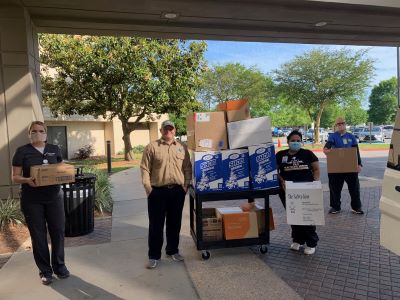 Houston, Texas
Westlake and the Ting Tsung and Wei Fong Chao Foundation contributed a combined $1 million to the Greater-Houston COVID-19 Recovery Fund. This fund was established by the United Way of Greater Houston and the Greater Houston Community Foundation to provide emergency assistance, like access to food, shelter and healthcare, for individuals adversely affected by the COVID-19 pandemic.
Providing Assistance Worldwide
Through Resilia Srl, our Westlake Global Compounds operating unit in the greater Milan region, Westlake contributed financial assistance to the Croce Rossa Italiana (the Italian Red Cross)​ to provide needed support to residents in that area. The organization's president, Dr. Angelo Maria Bianchi, sent a letter of appreciation that stated, "We would like to state our deep gratitude to Westlake Company [for its] support in this critical period for our Country and for all the National Health system, where we are delivering our support and service to all people in need. GRAZIE, (Thank you) for supporting us to improve Varese Red Cross activities, useful to protect and care [for] everyone's Health!"
Our Westlake Global Compounds colleagues in Spain donated disposable suits to Hospital de Mollet del Valles in Barcelona. These suits will be used by doctors and nurses to protect themselves from infection.
Our Vinnolit colleagues in Germany have responded to the shortage of PPE (personal protective equipment) by donating a total of 2400 respiratory protection masks to hospital and retirement home workers.  Masks were sent to clinics and care facilities in both Burghausen and Ismaning, where Vinnolit operates, among other nearby cities. The Corona Crisis Management Team of the Rhine-Erft District also received a donation of masks. 
"We as Vinnolit would like to thank the employees in the health care and nursing facilities for their great commitment in this health crisis situation. As a company from the region, it is a special concern of ours to support them," Vinnolit Managing Director Dr. Karl-Martin Schellerer said.